Looking for a Graphics Designing Agency in Noida ?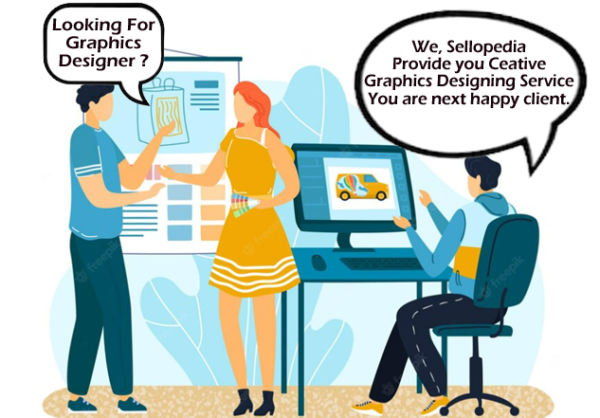 Are you trying to find the top Indian firm that offers all types of graphic design services? In that case, you have come to the proper place. Sellopedia has been creating designs for years that made an impact at first sight. We believe that the key to unlocking the doors to your success is innovation.
Our designers in Noida, are the epitome of inventiveness. They regularly provide customers with beautiful visual solutions, shareable films, and eye-catching bright photographs. In Noida, we are a creative graphic design services company with experience developing flyers, banners, logos, and other artwork.
Best Graphics Design Company in Noida
As a professional graphics design agency in Noida, Sellopedia helps you not only inspire people, but also make them addicted to your brand. We have that added graphic design edge that can ensure your marketing success. We provided many graphics, layouts, and designs that were well within the client's budget but beyond their expectations.
We offer a one-stop shop for a variety of website development services that are completely customised and responsive. We are the best website development company in Noida. We are a premier web development company in Noida and offer our esteemed clients world-class solutions and services.
Our deftly famous graphic designers team of top graphic designers in Noida, works in tandem with the content editors and developers to cater to every need of yours. Be it creating aesthetic website graphics design, or infographics for social media, or package designing, or anything.
Our team follows a proper designing process to provide unique creative designs to fulfill your goals. Below mentioned steps will give further insight into our process. If you need our graphic design services then you can find us by typing graphic designer in Noida.
Graphics Designing Services in Noida
You may keep inside your budget by choosing one of the many graphic design firms in the region that delivers the service at a reasonable price.By deciding upon the limits of your expenses and desired expectations, you can discuss with the graphic designing company the terms of payment and pricing for the company. And thereby have the best service in graphic design in the budget.
Any good digital marketing company can make a tempting website, but what makes that website unique is the graphics.We produce high-quality graphics websites like a soul in a body, which makes content in digital marketing an underappreciated king, like many other content production firms in
Noida
.
In the digital world, you can drive lots of visitors to your website, but unless and until the graphics on your website impresses your audience, you won't be able to convert that lead into a lead.
Graphics Designing in Noida
As your dependable digital partner, we provide thorough website maintenance services to boost your website's functionality and guarantee a positive user experience. As a result, we provide website maintenance services in
Noida
.
Each brand has unique qualities that should be highlighted through appropriate use of font, subjects, shades, and other design elements. At Sellopedia, we focus on the interplay of brand character development by providing a large selection of corporate branding services that are specifically tailored to your company's needs. We ensure that your company develops a remarkable identity and differentiates itself from competitors. We have a dedicated team of creative leaders, visual artists, video illustrators, and task managers who are committed to providing you with the best services.
Contact the Best Website Desgining Agency in Noida