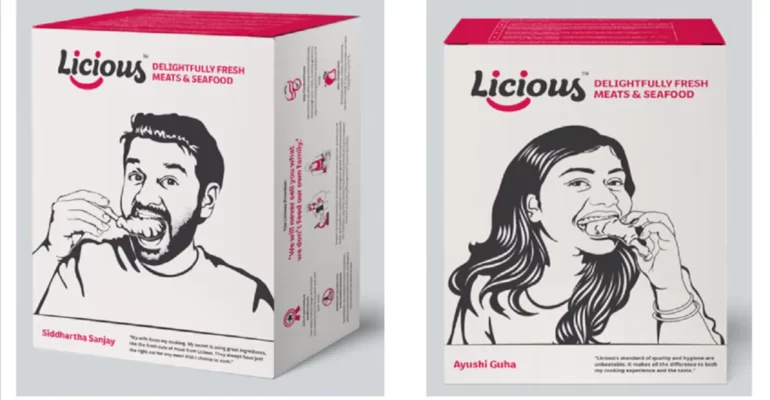 Licious Case Study – Tricks to Attract New Customers in your Startup
Founded in 2015 by Abhay Hanjura and Vivek Gupta, Licious is India's first D2C Unicorn Bengaluru-based startup. It deals in several non-vegetarian products including meat, chicken, eggs, and seafood. With over 3500+ employees, Licious claims to process and deliver 1 million+ orders per month. It is mainly concentrated in the south because of the huge demand from these regions. The best part is that they are the owners of the entire supply and cold chain. They mainly work on two major models, the first is farm-to-fork model and second is Hub and spoke model.
5 Marketing Strategies of Licious
Celebrity Endorsement
Celebrity endorsement is the most effective way to promote the brand. A celebrity promoting the brand enjoys great popularity among the audiences and his word of mouth comes as evidence of the 'reliability of the brand'. Licious too collaborates with famous names in order to drive huge sales. Let's have a look at one of their campaigns.
Reference link- https://youtu.be/NnzHBlI-nJ0
In this ad, the Anil-Arjun duo are seen enjoying the fresh fish. In this, Anil Kapoor is clarifying the fact that one should not compromise when it comes to fish. Then the amazing duo goes on counting the benefits of Licious from delivering fresh food within 24 hours to getting it in an airtight vacuum shield so that the food doesn't get spoiled.
Tasting sessions Marketing
This is one of the incredible strategies when it comes to food and drinks companies. If you want to win the audience, you let them taste your brand. That's what worked wonders in the case of Licious. Licious has conducted tasting sessions and events near apartment complexes and lets people taste the quality food served by them. Licious has acquired around 70-75% of customers because of this. This strategy is so good that every food brand should try it once!
Giving Priority to Customers
It is always said that the 'happy customers are the loyal ones'. Well, it is true because a customer getting satisfactory service will never turn to another brand, you have to make your customers happy! You just don't need to serve the best food from your side, but also acknowledge their needs and requirements.
Digital marketing:
They also use digital marketing to increase their customer base. By optimizing the SEO properly, they get their maximum audience. Doing proper keyword research is how they make their brand appear instantly.
Content Marketing
Licious also takes the help of content marketing to promote the knowledge of the brand to its customers. They produce content educating (or informing) the audience about the brand, the food and deliver recipes via youtube videos. They use it as a tool to deliver the brand message and correct knowledge.